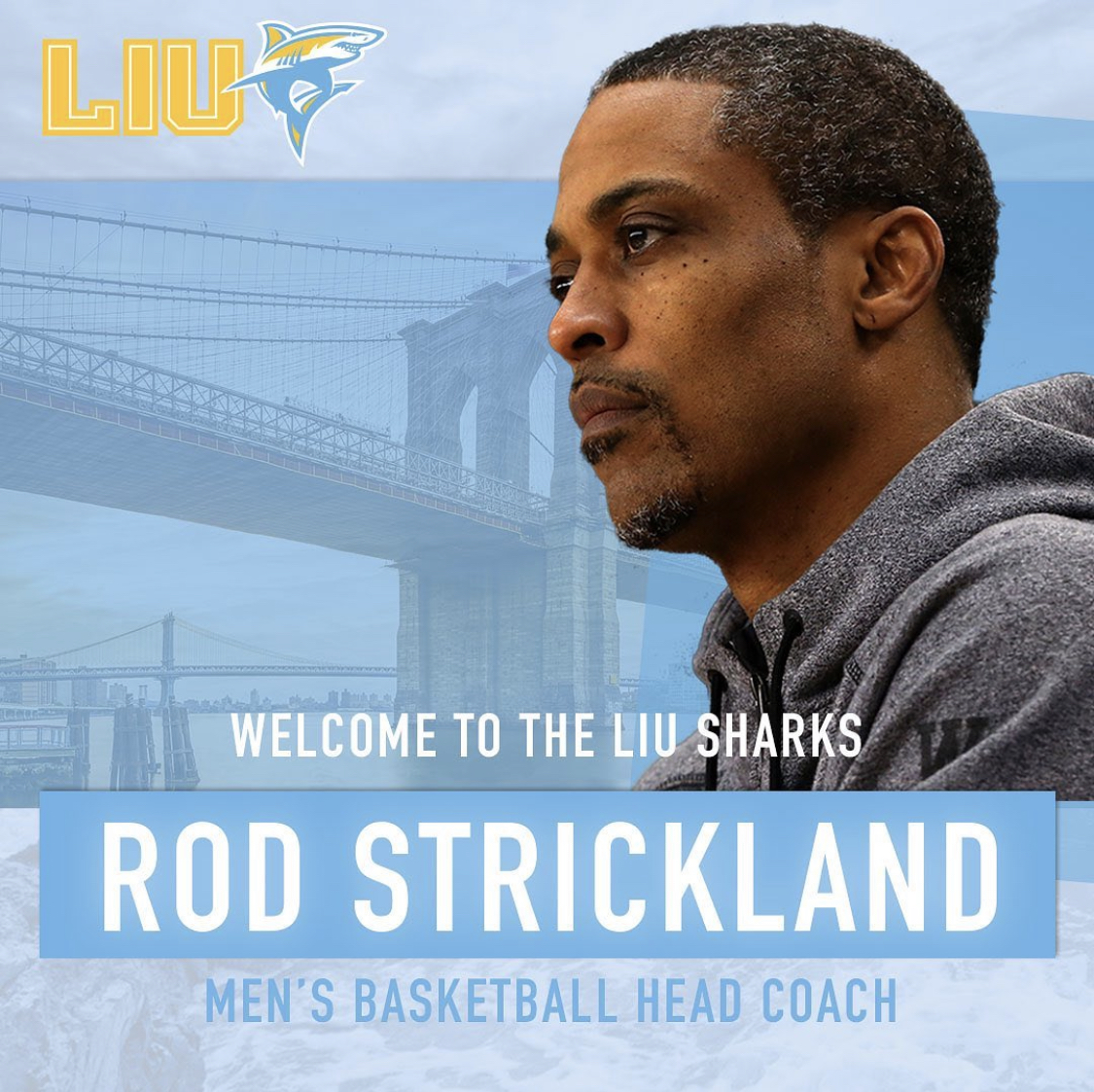 Brooklyn, NY, (June 30, 2022): Rod Strickland, the NBA executive, All-NBA point guard and member of the New York City Basketball Hall of Fame, was named men's head basketball coach of the Long Island University Sharks today. Strickland joins LIU from the NBA G League, the National Basketball Association's official minor league, where he served as director of the professional path program since 2018.
New York City Basketball Legend Brings NBA Player Development and Recruitment Expertise to Further Elevate the LIU Sharks
"Rod Strickland has a demonstrated eye for recruiting and developing student-athletes and we are confident he will elevate Long Island University's winning tradition to even greater heights," said Long Island University President Kimberly R. Cline.
In his role with the G League, Strickland evaluated, educated and mentored top high school prospects in the professional path initiative to prepare them for a career in the NBA. He served as a player and coach relations manager and program director of G League Ignite, a selective team of the most elite NBA prospects. He is eager to use his proven track record of recruitment and player development to bring top national talent to Long Island University and build a perennial Division I contender with the Sharks.
"Developing young players on and off the court has always aligned with my passion while I was playing and after retiring from the NBA," Strickland said. "I am appreciative to Long Island University for the opportunity to become a head coach at home, in New York City. The Sharks are going to be a competing program for top athletes who not only want to take their game to the next level but prepare for success."
Strickland, a Bronx native, was a three-time All-American with three straight NCAA Tournament appearances and was selected in the first round of the 1988 NBA Draft by his hometown New York Knicks. He enjoyed a 17-year NBA career in which he scored over 14,000 points and recorded nearly 8,000 assists while playing for nine franchises. During the 1997-98 season, he led the league in assists per game and was named second-team All-NBA. He ranked top 10 in assists per game in seven seasons and ranks 13th all-time in career assists.
Strickland retired from the NBA in 2005 and began his post-playing career as a director of basketball operations at the University of Memphis. He served in an administrative role at the University of Kentucky under Coach John Calipari, and as an assistant coach at the University of South Florida.
"Rod has done a tremendous job as program director for NBA G League Ignite, from leading our recruiting efforts to aiding in the development of our young players, including six NBA Draft picks in the last two seasons," said Shareef Abdur-Rahim, President of the NBA G League. "We wish him the best with Long Island University. LIU is getting an amazing person and great basketball man."
Long Island University is a two-time national champion and seven-time conference champion in Division I men's basketball. Its national championship teams were led by Naismith Memorial Hall of Fame Coach Clair Bee and point guard Ossie Schectman, who is credited with scoring the first basket in NBA history with the New York Knicks in 1946.
About Long Island University
Long Island University, founded in 1926, continues to redefine higher education, providing high quality academic instruction by world-class faculty. Recognized by Forbes for its emphasis on experiential learning and by the Brookings Institution for its "value added" to student outcomes, LIU has a network of over 285,000 alumni, including industry leaders and entrepreneurs around the globe. Visit liu.edu for more information.