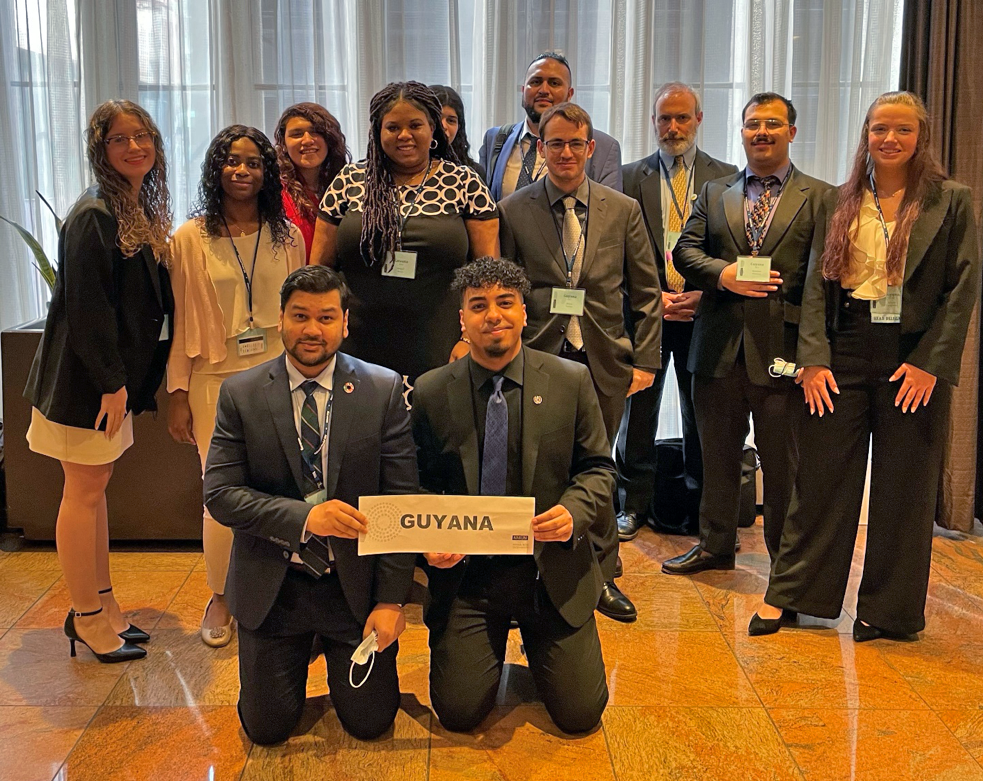 Brookville, NY, (April 28, 2022): The Long Island University Model United Nations team was named "Distinguished Delegation" in the world's largest intercollegiate Model United Nations competition that took place April 10-14 in New York City. Long Island University students competed with thousands of delegates from prestigious universities representing five continents and dozens of United Nations member states, including the U.S., France, Germany, Spain, Italy, Switzerland, Korea, Lebanon, Chile, Colombia, and the Philippines.
António Guterres, the Secretary-General of the United Nations, celebrated the National Model UN participants for believing in the power of global cooperation and stated "the United Nations is your steadfast ally as we strive to build a sustainable, inclusive, and resilient world for all…our world needs your engagement and ideas more than ever."
Long Island University consistently ranks among the top Model United Nations delegations in national and global United Nations competitions.  Long Island University received the top prize of "Outstanding Delegation" out of more than 50 national universities at the National Model United Nations Conference in Washington, D.C. from November 5-7, 2021. Long Island University won the prestigious award by competing against top national universities across the U.S., including Georgia Tech, U.S. Air Force Academy, Clemson University, Wake Forest University, Pepperdine University, Baylor University, Syracuse University, and many more.
In 2022, the National Model United Nations (NMUN) recognized Long Island University for over three decades of commitment to the ideals of the United Nations.  Specifically, the National Model United Nations honored Long Island University for showing "commitment to experiential learning opportunities like NMUN as well as the ideals embodied by the United Nations. We are greatly indebted to them for their leadership."
The National Model United Nations (NMUN), the world's largest and oldest ongoing university-level Model UN, annually draws participants from more than 130 UN Member States to address current global issues. The National Model United Nations is associated with the United Nations Department of Global Communications.  Participating in the first post-COVID lockdown National Model United Nations conference in New York City since 2019, the twelve-member Long Island University team represented the nation of Guyana from April 10-14 in seven committees, ranging from the General Assembly to the International Atomic Energy Agency. After four days of intense debate and negotiation, the hard work and dedication of the team were recognized with the award of Distinguished Delegation.
Long Island University's prestigious Honors College students were among the winning delegation that received official recognition for their performance.  Winning team members included Abdullah Akl, Gracie Carpenter, Valerie Chateau, Ellen Hernandez, Hannah Kleinman, Barbara Knipe, Shania Libert, Elizabeth Rafailova, Abigail Bossa, Aidan Tuosto, Matthew Overton, Sage Gautier, and Vladimir Tobar.
Long Island University's winning faculty team members included Hemendra Bhola, head coach, Model United Nations Program; Dr. Simon Sheppard, associate professor and faculty advisor to the Model United Nations Program; and Professor Heather Butts, assistant professor and faculty advisor to the Model United Nations Club, and co-chair of the Honors College.
The next National Model United Nations competition will be held in November 2022 in Japan for top universities around the world.
ABOUT LONG ISLAND UNIVERSITY
Long Island University, founded in 1926, continues to redefine higher education, providing high-quality academic instruction by world-class faculty. Recognized by Forbes for its emphasis on experiential learning and by the Brookings Institution for its "value added" to student outcomes, Long Island University has a network of over 285,000 alumni, including industry leaders and entrepreneurs across the globe. Visit liu.edu for more information.