Over 450 high school students—including 180 kids from 28 states outside New York—have gathered at the LIU Post campus for the Summer Honors Institute. Running from July 8 to July 13, it's a week of stimulating academic pursuits sandwiched between a wide range of activities from barbecues to bungee-jumping, public speaking exercises and special events including a fashion show at Hillwood Commons.
The week is so jam-packed it's hard to see how the students have a moment to think—but apparently they do.
Take the Summer Honors Institute for Investigative Reporting, for example, which bills itself as a "boot camp for high school reporters." Here, they work closely with the college editors of LIU Post's award-winning student newspaper, The Pioneer.
One of the participants in the Public Relations, Communications and Journalism program in the College of Arts, Communication and Design is Julia Cuttone, a quadruplet—all girls—from East Meadow, N.Y.
"All my sisters came to the program at the same time," Julia wrote in her blog, "and made the process of getting to meet people easier."
Her sister Daniella is in the Film Studies program, Victoria is in the Model UN program, and Rosanna is in the Health Studies Nursing program. "The people here are truly some of the nicest, kindest people I have ever met," Julia added. "I can already tell this is going to be a fast and unforgettable week."
Originally interested in pursuing a STEM career, Allysia Edwards from Blackwood, N.J., wants to be a writer and came to the Summers Honors Institute to hone her skills. Her first morning on campus she set her alarm for 5:40 a.m. "I put it upon myself to wake up early so I could have first crack at the showers," she admitted. That was just the beginning—there was so much to do she didn't return to her dorm until 10:30 p.m. "I've really fallen in love with SHI," she wrote on her blog. "If college is even half as fun as SHI, then I know I will love college too."
An aspiring journalist from Spring Hill, Tennessee, McKenna Kaufman had never been to New York City before she came to the Summers Honors Institute. "I am hoping to hone my skills as a reporter and learn to portray real life events with more clarity during the LIU program," she said.
For a field trip, Professor Carolyn Schurr Levin is taking this summer class to meet reporters and staff of The New York Times.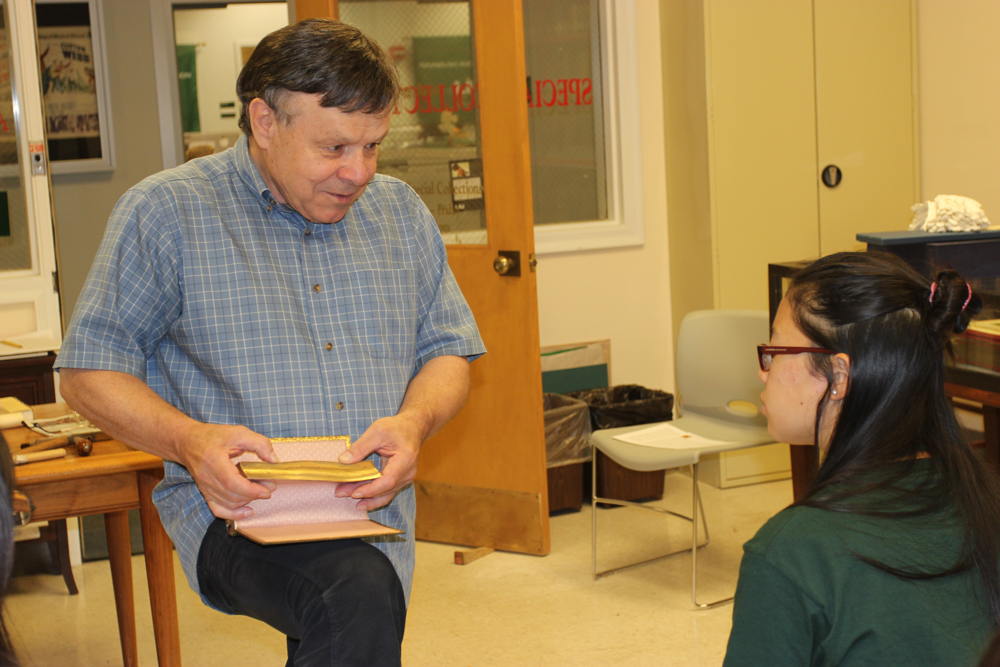 On a very warm afternoon, 10 attentive students—all about to enter their senior year in high school and all aspiring to become teachers—were practically glued to their seats upstairs in the B. Davis Schwartz Memorial  Library for a class called "Archives and Special Collections Presents Renown Rare Book Binder Paul Belard." This presentation was hosted by Jarron Jewell, acting director and curator of the American Juvenile Collection, who's known Belard for over a decade.
"In this department, we're interested in the physical nature of our rare books," she explained. "They're available in our special environment for research purposes."
An engineer by training and a self-taught bookbinder who studied in France where he's from, Belard is president of the Long Island Book Collectors.
"Repairing books has always been a hobby for me," he said, as he handed out the tools of his craft as well as sharing some rare copies of books he's collected over the years. When he started out, he handled a big project for LIU Post Professor Bob Brier, a world renown Egyptologist, which involved soaking a big book cover in his bathtub to prepare for its restoration—much to the consternation of his wife. Later in his impressive career Belard repaired an original Joseph Conrad manuscript for the publisher Nelson Doubleday. At Post on July 9th, Belard seemed to strike a chord by showing students how real books are held together.
Later taking the students on a tour of LIU's holdings, Jewell suggested that maybe someday one of them might become a special collections librarian or rare book binder or repairer.
As she recalled, "One of the students looked at me directly with a big smile and said, 'Maybe one of us will!'"
LIU Brooklyn will be hosting its Summer Honors Institute from July 15 to July 20th.