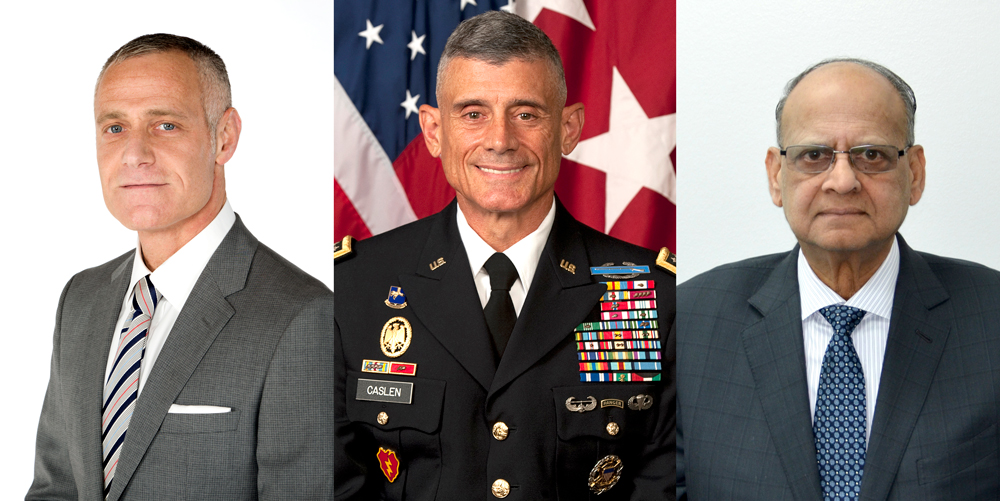 Lt. General Robert Caslan, Superintendent of U.S. Military Academy at West Point to Keynote Ceremony for Doctoral, Master's, and Dual Degree Candidates

One of today's top impresarios in the world of sports and entertainment, Brooklyn Sports and Entertainment CEO Brett Yormark will be the featured keynote speaker at LIU Post's commencement ceremony on May 11, 2018. Ceremonies for bachelor's degree candidates will begin at 10 a.m. The doctoral, master's, and dual degree candidates will receive their degrees at 2 p.m. in a separate ceremony with keynote speaker Lt. General Robert L. Caslen, Jr., Superintendent of the U.S. Military Academy at West Point.
As CEO of Brooklyn Sports & Entertainment, Brett Yormark oversees the business enterprise that manages Barclays Center, Brooklyn Nets, New York Islanders business operations, NYCB LIVE, home of the Nassau Veterans Memorial Coliseum, LIU Brooklyn Paramount Theatre, Webster Hall, and the Nets' G-League team, the Long Island Nets.
"As one of our region's most dynamic business leaders, Brett Yormark is well positioned to honor the hard work of our graduates and inspire them to achieve their goals," LIU President, Dr. Kimberly R. Cline said. "As a leading innovator and entrepreneur who gives back to the community, he embodies the values we work to teach at LIU."
In addition to sports programming, Yormark has been instrumental in bringing some of the most popular names in music to Barclays Center and the Coliseum, including Jay-Z, Barbra Streisand, Bruce Springsteen, Beyoncé, Paul McCartney, Metallica, and more. His venues have also hosted top shows in family entertainment, such as Disney on Ice, Marvel Universe Live, Cirque Du Soleil, and the Harlem Globetrotters.
Yormark has been honored with the Leadership Award by the Nassau County Firefighters Museum. He was named three times to the "Forty Under 40" list by Sports Business Journal, selected twice to the "40 Under 40" list by Crain's New York Business, and has been profiled in Newsweek, Fortune, Sports Illustrated, Gotham, Hamptons, Success, The New York Times and USA Today. Yormark will also receive an honorary Doctor of Business degree.
LIU will also present an honorary degree to Rao Anumolu, President and CEO of ASR International Corporation, which he founded on Long Island in 1986.
Anumolu founded ASR with a handful of employees. Today, he has grown the business into a world-renowned high-tech company that provides engineering, information technology, training, and support services to global Fortune 100 companies and government agencies. It has a presence in all 50 states and 40 countries.
He has been cited by Congress for the contributions he and his firm have made towards homeland security in the United States, and received the Ellis Island Medal of Honor, recognized as one of the nation's highest awards for individuals whose accomplishments inspired service to our nation and whose past recipients include six presidents of the United States and winners of the Nobel Prize. Anumolu has also been recognized by the American Society of Quality, the American Management Association, the President's Council on Small Business, the Indo-American Friendship Council, the Indian Association of Long Island, the Nassau and Suffolk County Legislatures, the Telugu Association of North America, the American Telugu Association, and the World Business Forum.
Anumolu, who is member of the LIU Board of Trustees, will be awarded an honorary Doctor of Humane Letters.
"Rao Anumolu is the embodiment of the American dream and giving back," President Cline said. "He is a great success story and has built a world-class company that has a tremendous global reach and reputation.  We are honored to have someone with his entrepreneurial spirit on our Board of Trustees."
Lt. General Caslen became the 59th Superintendent of the U.S. Military Academy at West Point on July 17, 2013. He previously served as the Chief of the Office of Security Cooperation in Iraq. Lieutenant General Caslen's prior deployments and assignments include serving as the commander of the Combined Arms Center at Fort Leavenworth, Kansas, which oversees the Command and General Staff College and 17 other schools, centers, and training programs located throughout the United States; commanding general of the 25th Infantry Division (Light); and commanding general of the Multi-National Division-North during Operation Iraqi Freedom.
His awards and decorations include the Legion of Merit with four Oak Leaf Clusters, the Bronze Star Medal with two Oak Leaf Clusters, the Defense Distinguished Service Medal, the Distinguished Service Medal with Oak Leaf Cluster, the Defense Superior Service Medal with Oak Leaf Cluster, the Defense Meritorious Service Medal, and the Meritorious Service Medal with five Oak Leaf Clusters. General Caslen also received a Master's Degree from LIU.  He will be awarded an honorary Doctor of Humane Letters at the ceremony.
"General Caslen has dedicated his life to honorable service to our nation," President Cline said.  "As a distinguished alumnus of LIU, we are honored that he is returning to share his perspective with our doctoral, master's and dual degree candidates."